>> LPL's COVID-19 RESPONSE INFORMATION <<
>> UPDATE (AS OF 04/01/2020) - THE LIBRARY WILL BE CLOSED TO THE PUBLIC UNTIL MAY 4th
STAFF IS STILL AVAILABLE TO HELP BY PHONE OR EMAIL
OUR DIGITAL RESOURCES ARE STILL AVAILABLE
WIFI CAN BE ACCESSED FROM OUR PARKING LOT
** The Drop Boxes have been Locked **
~ Please keep all borrowed items at home
until the Library opens. 
~ CW MARS has adjusted all due dates of borrowed items to
May 1st, so there will be no late fees.
~ All Patron cards that were set to expire by April 30th have also been updated to reflect May 1st.
STAFF CAN STILL BE REACHED BY PHONE OR EMAIL BETWEEN
9-5 MONDAY TO THURSDAY, & 9-2 ON SATURDAY
Phone:  978-582-4140     Library Email:  lunenburg.library@cwmars.org
Director:  mhaman@cwmars.org     Teen Services: mhaman@cwmars.org
ILL's:  sfreeman@cwmars.org     Children's Services:  dlaffond@cwmars.org
Digital Services:  hbuiwit@cwmars.org     Adult Services:  lgravell@cwmars.org
~ Message from the Director,
Dated March 17, 2020 HERE
~ Lunenburg Public Library News & Announcements
Updated March 27, 2020 HERE
~ Lunenburg Public Service Announcement,
Updated April 1, 2020 HERE
~ Exciting News about eBooks and Magazines
Updated March 23, 2020 HERE
~ Some Frequently Asked Questions,
Updated April 1, 2020 HERE
~ Informative Links (NEW)
Updated March 28, 2020 HERE
---
Get Some Fresh Air
Sherri Freeman, who does our ILL's among other things, is an avid hiker and has written up an article sharing that interest.
As with all of our programs and content, our sharing is not necessarily an endorsement.  While hiking might not be possible to the same extent (or possibly at all) during our current stay-at-home advisory, exercise is important, and there will be a time soon when we can return to those spaces safely.  In the meantime, enjoy the article HERE.
---
Message from Chuck Venezia, President HERE
---
Plenty of famous museums and galleries offer virtual tours of their institutions.  This way you can check out some of their famous exhibits with the best feature of all -- no crowds!
Featured Museum:  Take a stroll through the Smithsonian
Which musuem will we feature next week?
---
For those of you missing the chance to read and discuss a book with your community, OverDrive is offering a new "Big Library Read."   Readers around the world are connected with the same book at the same time without any waitlists or holds.  If you don't already have a library card, at this time you can sign up for an OverDrive Instant Digital Card HERE, or you can call or email the Library.
>>  MARCH 23 - APRIL 13 <<
Big Library Read is a three-week digital book club that connects readers from around the world with the same ebook at the same time.
Beginning March 23rd, readers can join the Big Library Read by checking out the Funny, You Don't Look Autistic ebook from OverDrive.
About the Book: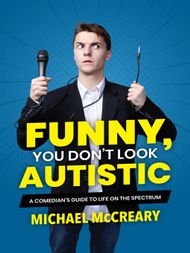 Stand-up comic Michael McCreary has been told by more than a few well-meaning folks that he doesn't "look" autistic.  But, as he's quick to point out in this memoir, autism "looks" different for just about everyone with Autism Spectrum Disorder (ASD).
'Funny, You Don't Look Autistic* is an invaluable and compelling read for young readers with ASD looking for voices to relate to, as well as for readers hoping to broaden their understanding of ASD.'
​With your Library Card, please visit HERE
Book Discussion HERE
Listen to Author Interview HERE
*Note:  Contains Mature Content
---
The Coronavirus
Please use these trusted sources of information to stay on top of coronavirus updates.
---
Gale Cengage
One of our providers of the statewide databases, Gale Cengage, is offering open access to some of its resources
to support PreK – Undergraduate learning.
 If you get asked for a password for any of these resources,
use "open" (no quotes).
An interactive kindergarten-readiness program that introduces children ages 3-6 to key concepts in math, science, social studies, language and literacy art, and music.  It's as challenging as it is fun!
Combines the best of Gale's reference content with age-appropriate videos, newspapers, magazines, primary sources, and much more.  Students will find outstanding support to complete assignments in core subjects including literature, science, social studies, and history.
Supports student papers, projects, and presentations while empowering the development of critical thinking and problem-solving skills with content aligned to national and state curriculum standards.
Interdisciplinary content that reinforces the development of skills such as critical thinking, problem-solving, creativity, communication, collaboration, and innovation.
An engaging online experience for those seeking contextual information on a broad range of Canadian topics, people, places, and events.
All Gale Resources A - Z
---
FREE Online Tax Filing Websites
If your 2019 adjusted gross income was $69,000 or less, you may find one or more Free File Online options for you.  Review each company's offer to make sure you qualify for a free federal return.  Some companies offer free state tax returns, other may charge a fee.  Massachusetts taxes can be filed for free online at:  www.Mass.gov/eFile.
There is a Free File Online Lookup Tool to narrow the number of offers you may qualify for or you may browse all offers to see which work with your specific needs.  These tools may be accessed at:  https://apps.irs.gov/app/freeFile/.
---
Sign up for the Lunenburg Public Library monthly newsletter.
(NOTE:  If you have signed up, but did not receive the latest newsletter,
check your SPAM folder.)